Investment diversification in cryptos
"Investment diversification" that was the first lesson I learned in my Economics degree. This means that we always should search for a diversified porfolio in order to protect or maximize your gains. However, exactly this year the phrase has lost any sense when applied to cryptocurrencies.
"I should seach other cryptocurrencies to diversify my portfolio" that was the first thing I thought after buying Bitcoin for the first time. Trough diversification you can protect your patrimony from market volatility for a better safety or maximize your gains by taking more risks.
Investment diversification in cryptocurrencies was a good strategy until the end of 2017. They presented price variations that occurred independently of Bitcoin, wich has the greatest volume at all major exchanges.
Let's go to data?
If you want to have a better undestanding of graph below, it's necessary to comprehend that: if the value is getting close to 1, the greatest will be correlation between two currencies, the square's color will get more red too.
The opposite can be applied too: if the value is getting closer to 0, then correlation between two cryptos is weak. If the value is getting closer to -1, then correlation between two cryptocurrencies is negative.
If you pass your mouse through the graph you can check the correlation between any pair of currencies.
The following currencies were used for this post: Bitcoin (BTC), Decred (DCR), Bitcoin Cash (BCH), Monero (XMR), XLM (Stellar), DASH (DASH), Ripple (XRP), Litecoin (LTC) e Ethereum (ETH). In other words, we selected the main cryptocurrenciess when the market cap is considered.

Until the last year was possible to mount a great cryptocurrencies portfolio according to your investor profile. However, the scenario has changed radically this year with market correction. I have one hypothesis that could explain this fact: cryptocurrency investors started to increase their position in Bitcoin after the market crash in January.
Who diversified could not protect himself
By seeing the graph below it's possible to visualize how the correlation between currencies has increased this year. That means if Bitcoin prices starts to go down, then all other currencies will follow the same pattern. We can say by this far, diversify in cripto has lost any sense.
The idea behind diverfication is to protect your invest or maximizing his returns or even a mix between those two options. So whats the meaning of diversifying your porfolio between assets that presents the same behavior in market?
Below you can see the percentage evolution in the price of each cryptocurrency. See how from January all quotations behave in a very similar way, presenting a decreasing movement. However, looking more to the left, it is possible to verify that there is not a well defined pattern in the quotations.
It's good to remeber that althought correlations are high at this moment, it's perfectly possible that two crypto can present opposite price movements. Already happened of Ethereum saving my porfolio all alone in a certain moment. However, in a great part of time, Ethereum has followed the same path of Bitcoin.
How to diversify investments?
Given the data above, we can say that diversify investments in cryptocurrencies of high market cap at this moment may not be a good idea. You will need to find other cryptocurrencies that have a negative correlation with Bitcoin.
The chart below shows how two types of investments that have negative correlation can protect your portfolio from volatility. When the dollar rises, Bovespa shares fall, this makes gains and losses more balanced. In addition, its capital is less exposed to market volatility.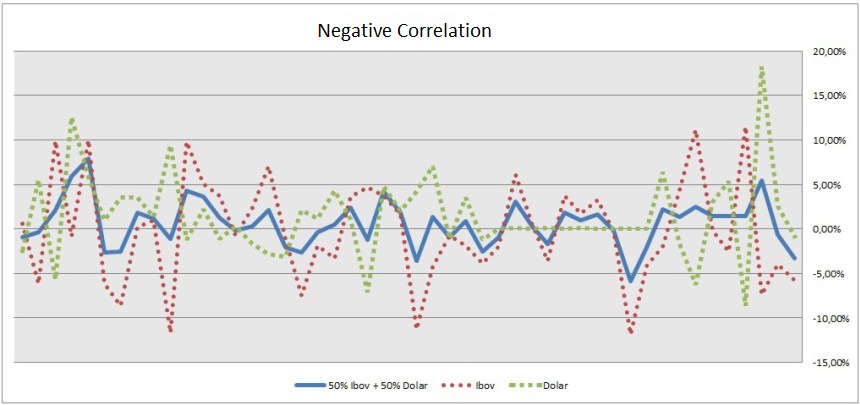 However, diversifying investment into different types of assets is a good option to protect your capital.
It may be of your interest:
Did you like the content? In case you want to receive more, favorite Cointimes and activate notifications